I signed up with a new "handle" on Twitter.  "I" am now "TheJourneyista."  Well, technically, I'm still Tim Hodgens, aka The Journeyista, and for purposes of finding me on Twitter I'm "@TheJourneyista."
It felt right, and when I pushed the enter button something unexpected happened.  A bee, yes, a bee showed up for the party and, well, kind of just plopped right down in front of me, on a piece of paper.  As if to make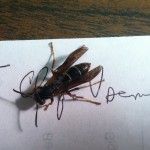 its entrance even more grand, the bee landed right on the new handle "The Journeyista" which was written on the paper I was using to remind me of the name and password.  All that was missing was a symphonic "Ta-Dah!" in the background.
I had a sense he may have been injured or wounded.  I looked at him.  I then moved the paper off my desk with him going along for the ride.  I thought: "chance or synchronicity?"
The latter, of course, and I brought him back to the desk and said "hello."  Out came a magnifying glass so we could see one another eye to eye.  He cooperated for the photo shoot to further memorialize the event.  As weak as it sounds, I told him that I didn't know what to do with him and then placed him on a file cabinet.  He then flew towards the door and landed on the back of my chair.  I took this as a hint  and brought him to the great outdoors, placed him on the ground and wished him well on the rest of his journey.
Thanks for visiting.  If you have to have a message, it could be "Be."  Or, Be The Journeyista.  What then came into my mind was:  "The Way of The Journeyista."
~~~~~~~~~~~
 Being into the Journey meets and joins up with The Way of the Journeyista in the Person of The Journeyista.
~~~~~~~~~~~
The Backstory – I was at the Apple store the other day asking a question about downloading a podcast from a website onto my iPhone.  Two guys were processing the problem.  One guy had the answer but before I peeled off with him, the other guy had "disappeared."  He was staring ahead and not seeing "out."  He was processing "inside."  He was unblinking.  I actually whispered:  "blinnnnnk."
It reminded me of a time when I had just finished doing several hours of detail work on my computer.  It felt good to have finished that project.  However, I realized that my soul and my body had been totally eclipsed, neglected, ignored, banished during that entire time.  And it came to me in a flash, that is how the individual can be hijacked in the service of servicing details, projects, etc., which serve other masters. The work had to be done, but the totality of the disconnect from body and soul stunned me.  I am so thankful for that insight into how easily it happens.
The balance between show and sideshow was broken, in the service of the sideshow.  The unblinking eye is the tip-off to the trance.  Consciously blinking, as utterly simple as it may sound, can be an effective tactic to reconnect and move in the direction of rebalancing.
Is it more understandable now how the heart has to attack in order to get its proper attention?
Is it more understandable now how the dream has to attack in the form of a nightmare in order to awaken us?